Back to School Updates: Text, PDFs and iPads
by Will Chambers on 18th September, 2019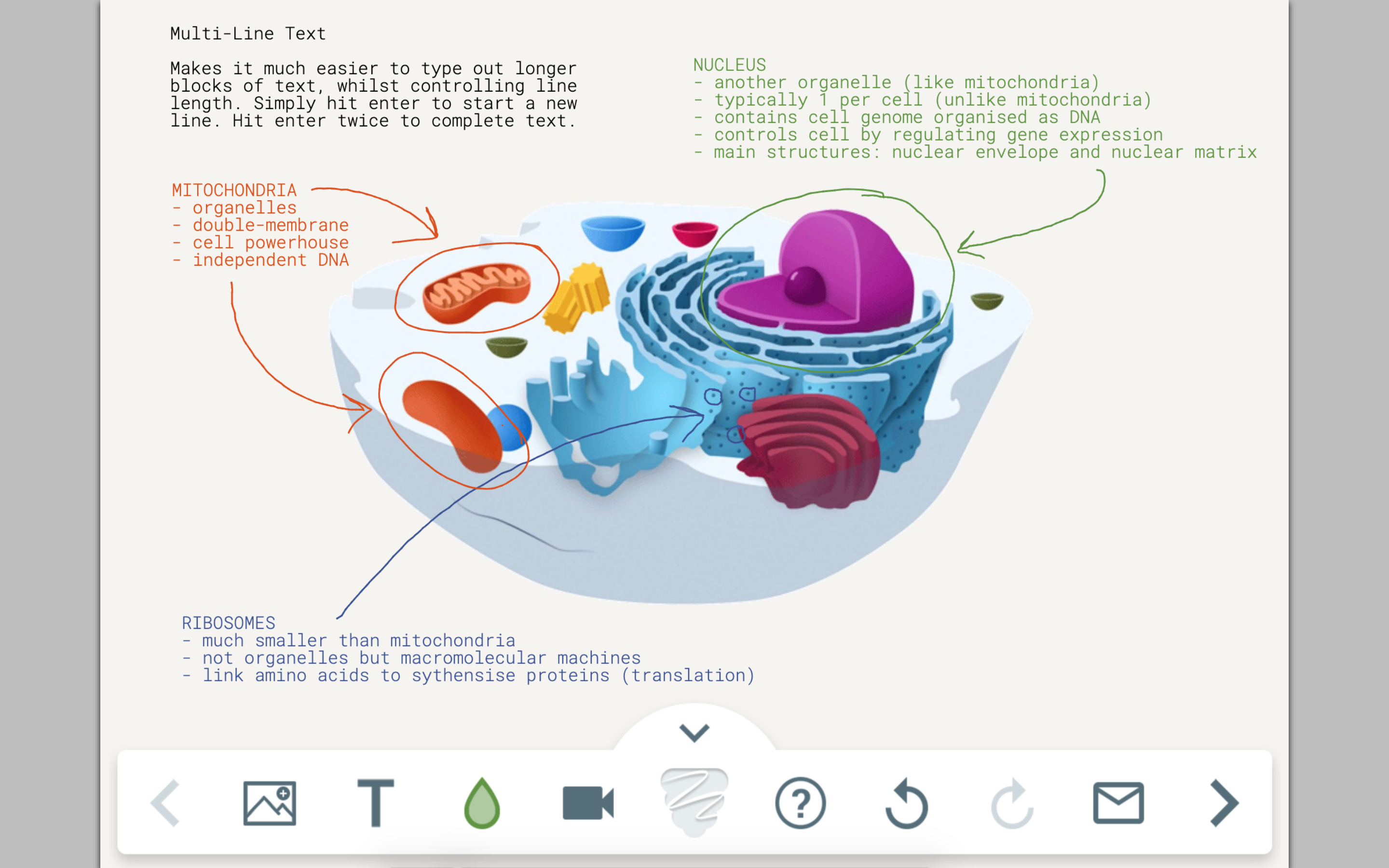 It's that time of year again. The mornings are crisp, the leaves are beginning to fall and it's time to go back to school. After the quiet summer months, this is when usage tends to pick up again so we're pleased to announce a bundle of improvements which make Bramble even faster and easier to use, just in time for us all to start a new year of learning.
---
Multi-Line Text
It's now possible to add text over multiple lines in the notebook. One of the great things about the text tool in Bramble is that it's real-time. As soon as anyone starts typing, the other person can immediately see what is being typed. This removes those awkward pauses where you're waiting for someone to finish typing, helping the session to flow much better. It can also help tutors to identify where students are pausing or making hidden errors.
However, the real-time nature of the text tool can make formatting difficult. One challenge was that until now text could only be entered on a single line: fine for adding labels, less good for entering blocks of text. That's all changed now though, with multi-line support.
When entering text, simply hit enter/return once to start a new line. If you want to finish entering text, hit enter/return twice. Finally, if you want to leave a gap between lines, use a space before hitting enter to move on to a new line. Hopefully, you should get the hang of it pretty quickly.
---
Share PDFs Even Faster
We think it's important for you to be able to share resources on Bramble as quickly as possible. We want it to feel like you're working together in the same room and waiting a minute for a file upload rather ruins that feeling…
Sharing PDFs on Bramble has always been pretty quick: simply drag and drop the PDF in to the notebook or use the upload button on the dock. But it's now even quicker. Quite frankly, ridiculously quick, if we may say so ourselves.
We've tried uploading a 32 page maths paper, 62 pages on the human genome sequence and the 144 pages of Hamlet – they've all taken just a couple of seconds. You can try it yourself with those same PDFs, or any others you have to hand.
---
iPad Voice Compatibility
Earlier this year we were delighted to put the finishing touches to full iOS support on Bramble. This meant you could have a full Bramble session including voice and video, with everything recorded, on any up to date iPhone or iPad. This all worked without you having to download or install anything on your device – simply open a Bramble link in Safari and you were ready to go.
Then Apple released iOS 12.4. In doing so, they made a change to a key piece of code we were using to provide voice support. The symptoms were a little odd. If I was on a iPad and you were on your computer, then you'd be able to hear me just fine but I wouldn't be able to hear you. Fortunately, a handful of you swiftly reported the problem to us. That meant we were able to quickly investigate and release a fix, so you can go back to having Bramble sessions from anywhere, on any device with just one click.
---
What's Next?
We're pretty excited about this one. We've always believed that one of the best things about online tutoring is that lessons can be recorded. Rather than throwing away hours of tutoring every week, the whole lesson is recorded for future reference. That's the idea behind our AI Revision Library. But wouldn't it be even better if you could search your recordings for anything you've discussed in a lesson? Kind of like Google but for your own personalised revision library – check that out below.