Devices That Take Your Online Tutoring to the Next Level – The Silver Setup
by Dr Scott R. Dempsey on 11th December, 2019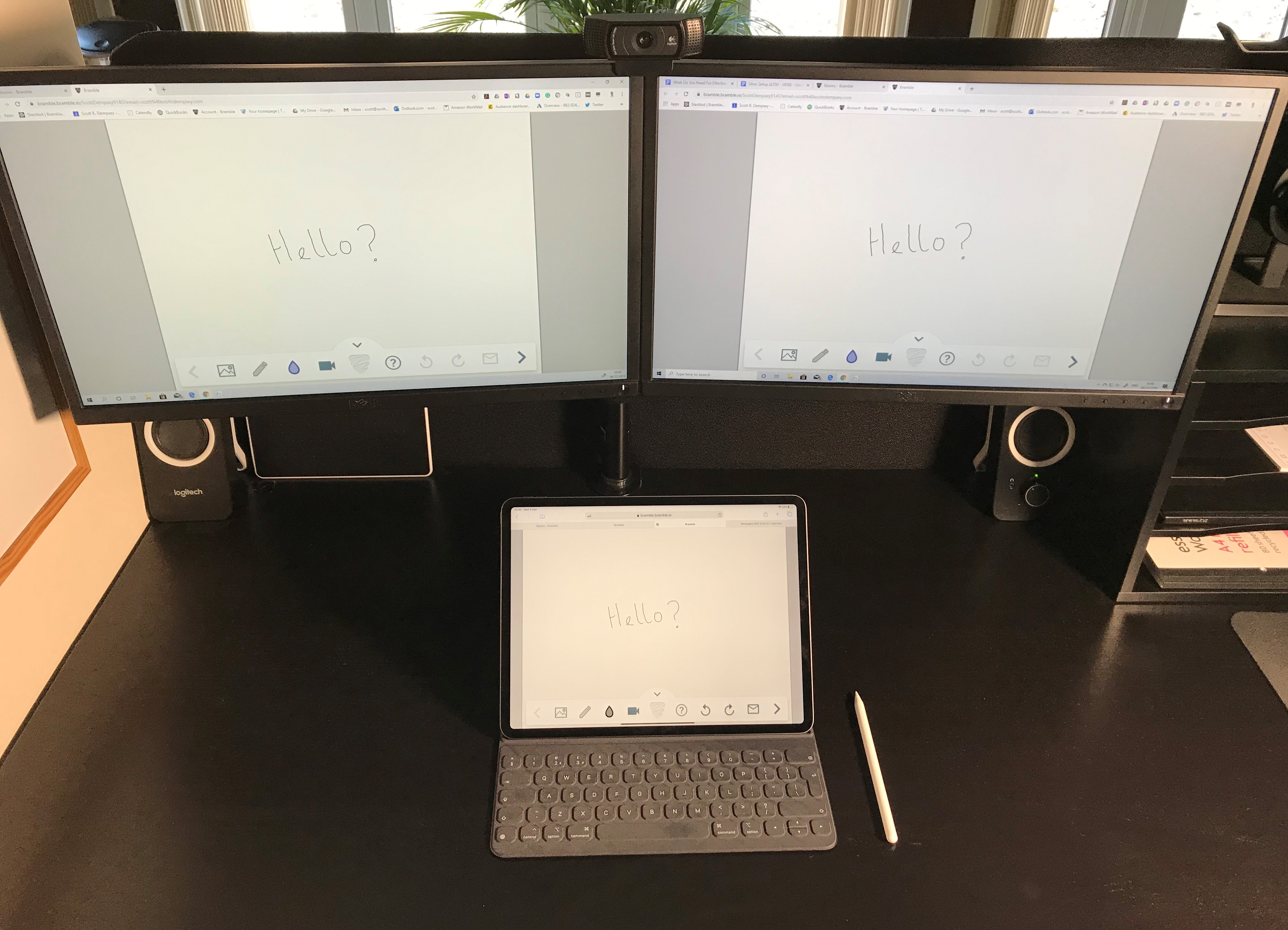 In the silver setup, we include devices that are well designed for online tutoring, generally because they include a touchscreen and stylus/pen. It differs from the Bronze Setup, where we suggested how adding a drawing tablet to your pre-existing laptop or desktop can make a big difference to the overall experience of tutoring online. We also highlighted that there are numerous cognitive and learning benefits to simulating handwriting using a good touchscreen laptop and stylus.
You might be thinking - what is the difference between using a drawing tablet or a touchscreen device with a pen?
We have found a small, but noticeable difference between writing directly onto the screen (much like you would do with a pen and paper) and writing on a tablet while looking up at a screen (which does not entirely simulate pen and paper writing). For this reason, a slightly better online tutoring setup would include a touchscreen in addition to a laptop or desktop or as a standalone.
To achieve this, we recommend one of three setups:
Chromebook + Touchscreen + Wacom Bamboo Alpha (£350)
iPad + Apple Pencil + Laptop/Desktop (£450 or £850)
Samsung S6 + S Pen +Laptop/Desktop (£620)
*For prices and reviews of these devices, check out our Ultimate Equipment Guide
Chromebook Touchscreens for Online Tutoring
If you're looking to buy a new laptop but want something that's rather more affordable than the Microsoft Surface Pro, then you could consider a touchscreen Chromebook. Pair it with a cheap stylus and you'll be able to have a pretty good online tutoring experience.
iPad or iPad Pro as a Second Device?
If you're happy using two devices, and already have a Laptop/Desktop, then adding an iPad and Apple Pencil in to the mix is perhaps the best way to improve your online tutoring experience. Personally, I'd stick with the standard iPad rather than going Pro. For tutoring online, you can't really tell the difference and you'll save yourself hundreds of pounds.
Samsung S6 + S Pen for Online Tutoring
The Samsung S6 + S Pen offers perhaps the nicest drawing experience of anything we tested. Like the Surface, you're able to see the Pen tip cursor on screen before it touches the screen, enabling greater precision. There's also a lovely give in the pen, so it really feels like you're writing on a nice thick pad of paper. The downside of this set up, beyond price, is the fact you'll be using Android Chrome rather than full Chrome and as such may have a slightly less reliable voice and recording experience.
To Conclude!
Being able to draw directly onto a screen with a pen, pencil, or stylus would be our slightly prefarable choice to using a drawing tablet. Both are incredibly effective ways to deliver online tutoring and the difference is subtle, so if on a tight budget perhaps opt for the latter, as detailed in our Bronze Setup. However, the fact that drawing directly onto a screen can simulate that of pen and paper, it gets the nod in this instance.
Want to see our ultimate setup recommendations for online tutoring? Head over to our Gold Setup.
---