What is the Best Equipment Setup for Online Tutoring?
by Dr Scott R. Dempsey on 8th December, 2019 (updated, 19th May 2021)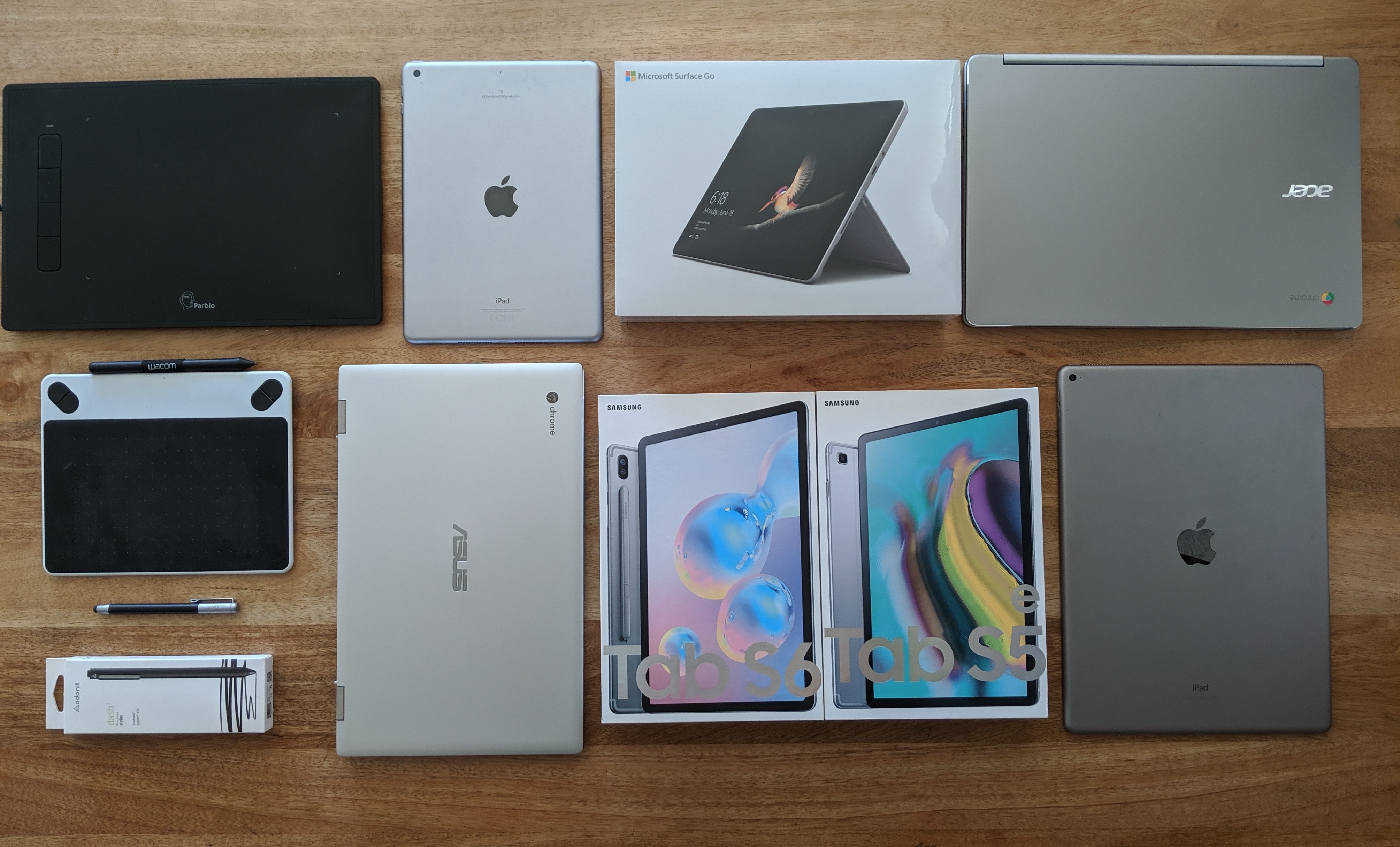 It can be a confusing world out there when it comes to choosing the best device for online tutoring. Are you better off with a laptop or a tablet? Should you go for Android, iOS or ChromeOS? What about the Microsoft Surface range? Do you need a stylus? And what are these Graphics Tablets everyone keeps talking about?
In an effort to chart a path out of this confusion, we've road-tested almost twenty different devices and accessories to see how they stack up. We've also put together a handy rating system to help you choose the setup that is right for you. Whether you want something simple to get started or you want to invest in the best possible solution, this guide should have the answer for you.
The first question to ask yourself is: what do I already have? In many cases, this will be enough for a good online tutoring session. However, there may also be situations where you want to invest a little more to enrich your experience. For this reason, we have broken our recommendations down into Bronze, Silver and Gold setups, depending on your budget and what you are starting with.
Breakdown of Hardware We Tested for Online Tutoring
Laptops and 2-in-1's
Tablets
Drawing Tablets
Huion H420 (£25)
Parblo Island A609 (£40)
Styluses
*Prices at time of publication. Note: We make no affilate commissions through links; for education purposes only.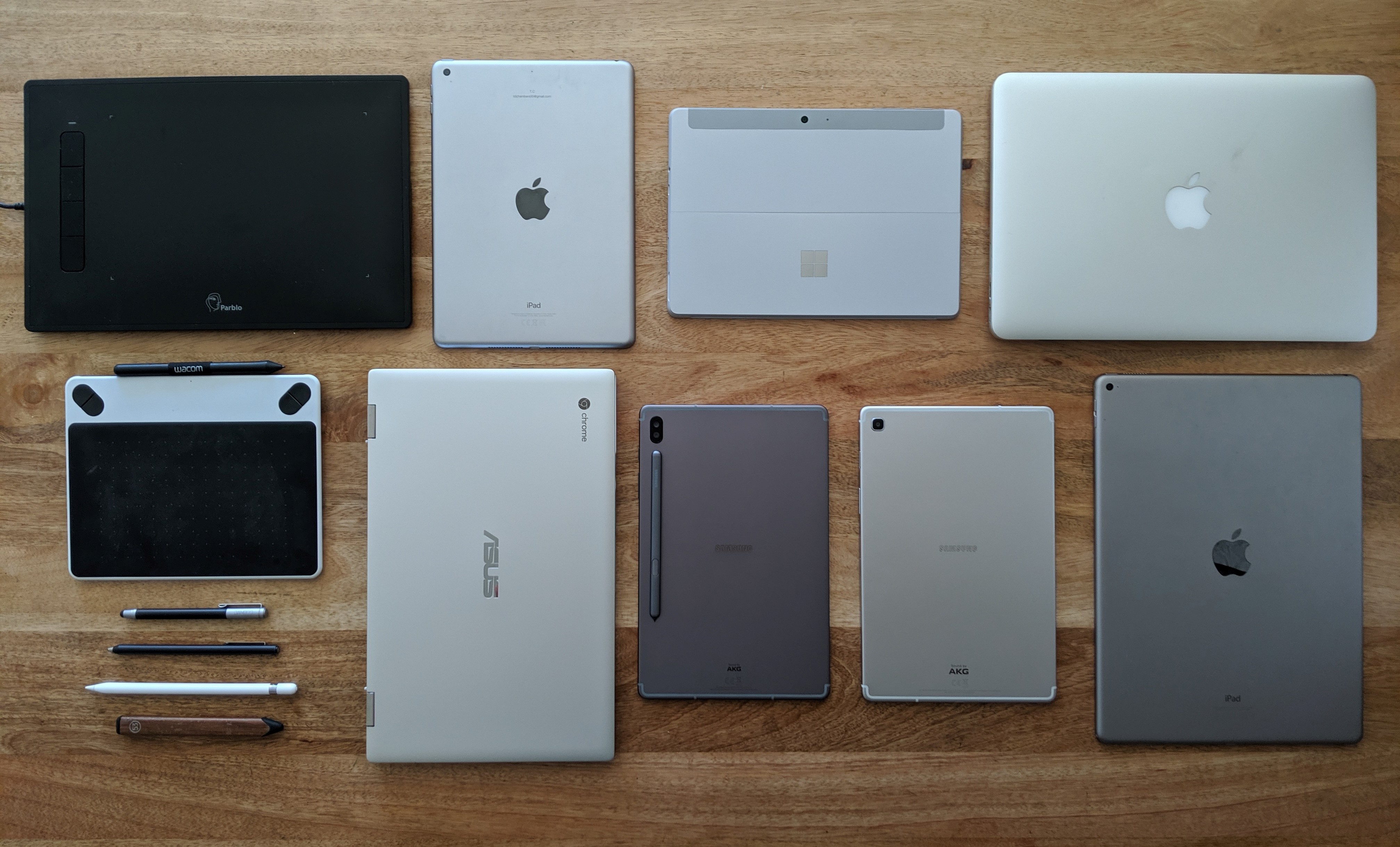 ---
Existing Laptop/Desktop + One by Wacom (£50)
This package can be a good way to dip your toes into the online tutoring ocean. If you've already got a laptop/desktop in place, you can massively improve your drawing capability by adding a graphics tablet in to the mix and after reviewing the most popular options the One by Wacom (Medium) is our pick of the bunch.
A tablet improves the experience of working online in a couple of ways. Firstly, it usually improves the appearance of work and legibility of writing, which is important if you wish to review your session notes at a later time. Secondly, and perhaps more importantly, you simulate the same kinaesthetic process as writing with a pen and paper, which aids the learning process.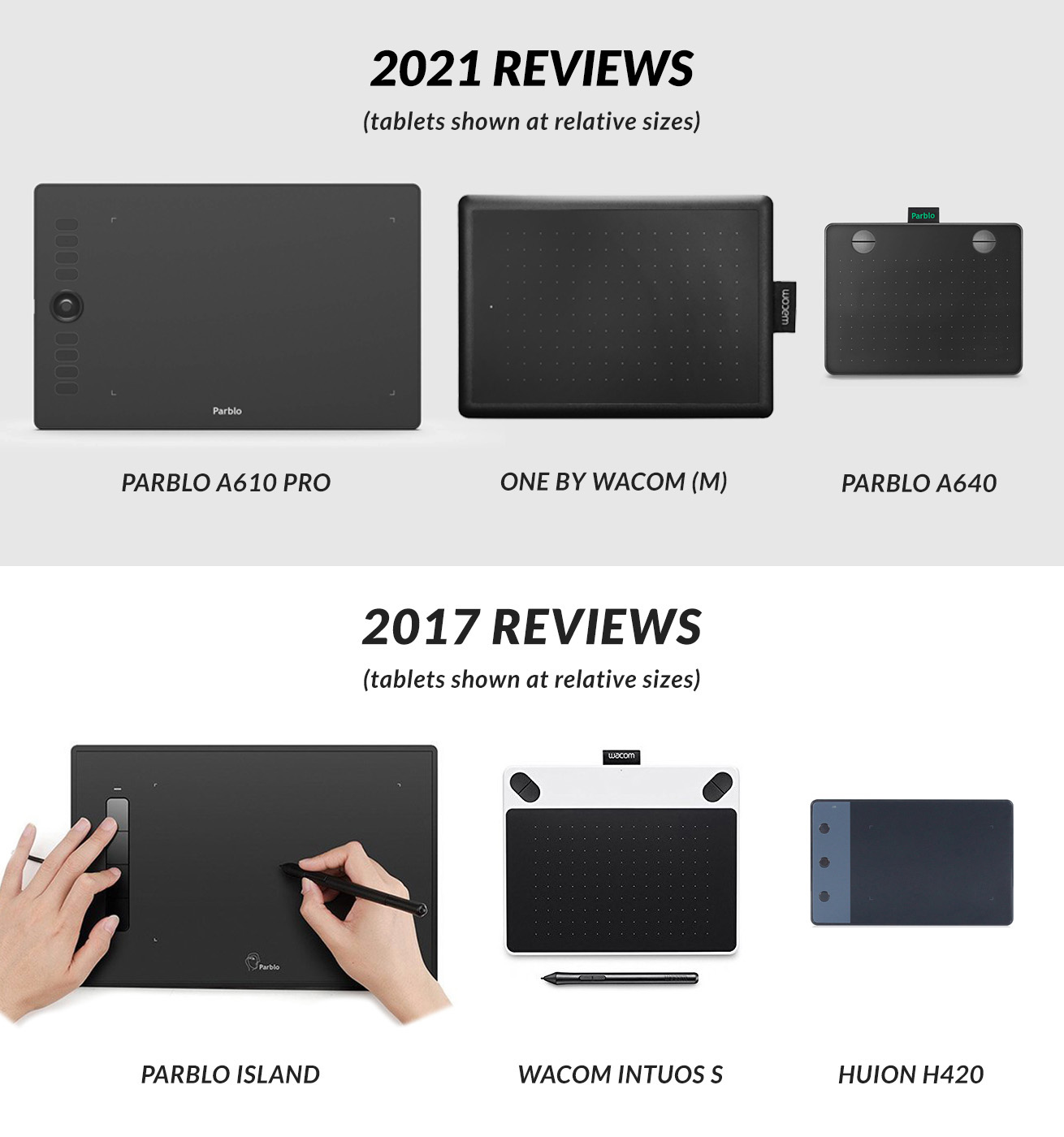 Chromebook + Touchscreen + Wacom Bamboo Alpha (£400)
iPad + Apple Pencil + Laptop/Desktop (£450 to £850)
Samsung S6 + S Pen + Laptop/Desktop (£620)
The Samsung S6 + S Pen offers perhaps the nicest drawing experience of anything we tested. Like the Surface, you're able to see the Pen tip cursor on screen before it touches the screen, enabling greater precision. There's also a lovely give in the pen, so it really feels like you're writing on a nice thick pad of paper. The downside of this set up, beyond price, is the fact you'll be using Android Chrome rather than full Chrome and as such may have a slightly less reliable voice and recording experience.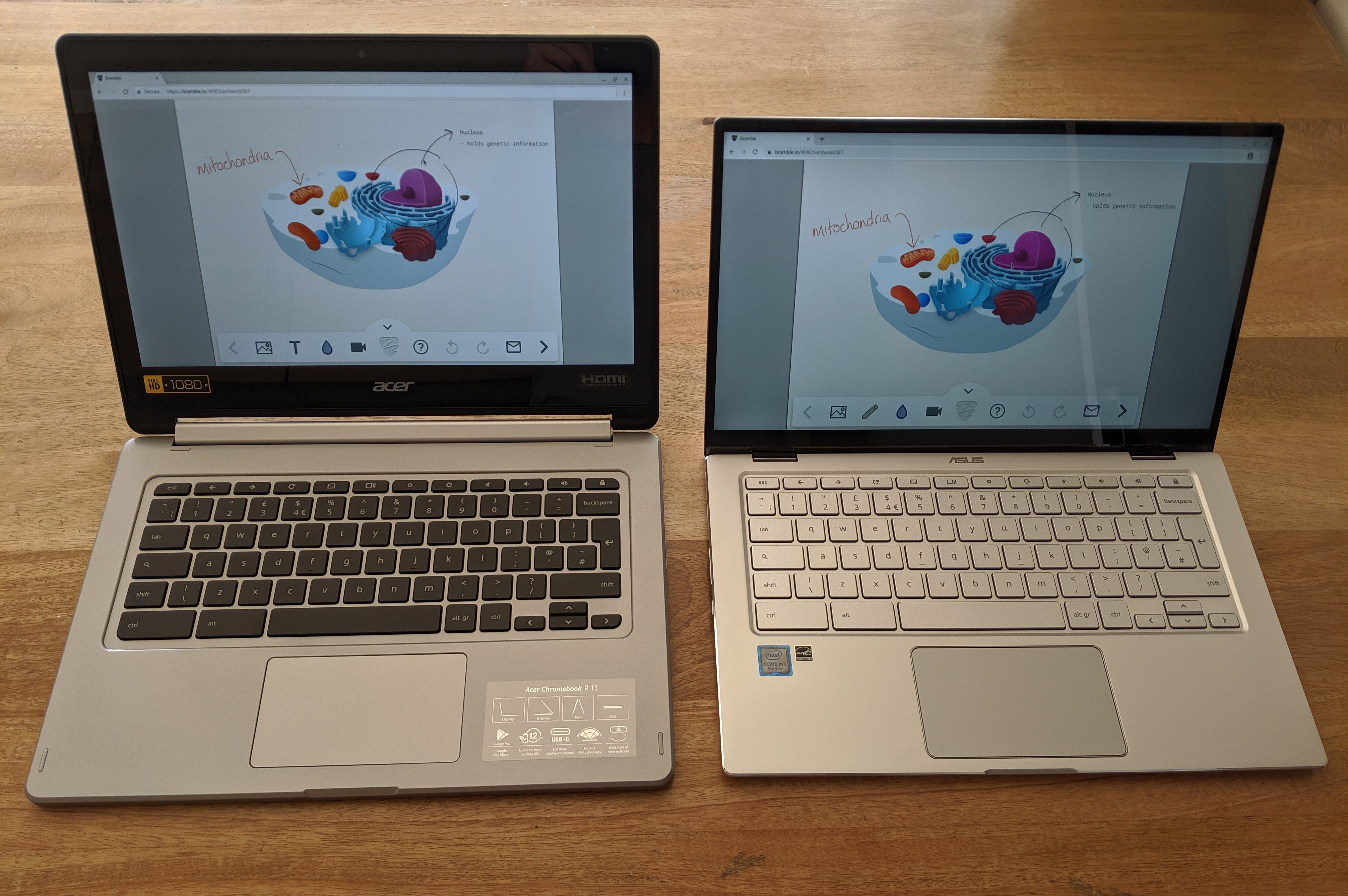 If you're happy using two devices, and already have a Laptop/Desktop, then adding an iPad and Apple Pencil in to the mix is perhaps the best way to improve your online tutoring experience. We recommend sticking with the standard iPad rather than going Pro. For tutoring online, you can't really tell the difference and you'll save yourself hundreds of pounds.
If you're looking to buy a new laptop but want something that's rather more affordable than the Surface Pro, then you could consider a touchscreen Chromebook. Pair these with a cheap stylus and you'll be able to have a pretty good online tutoring experience.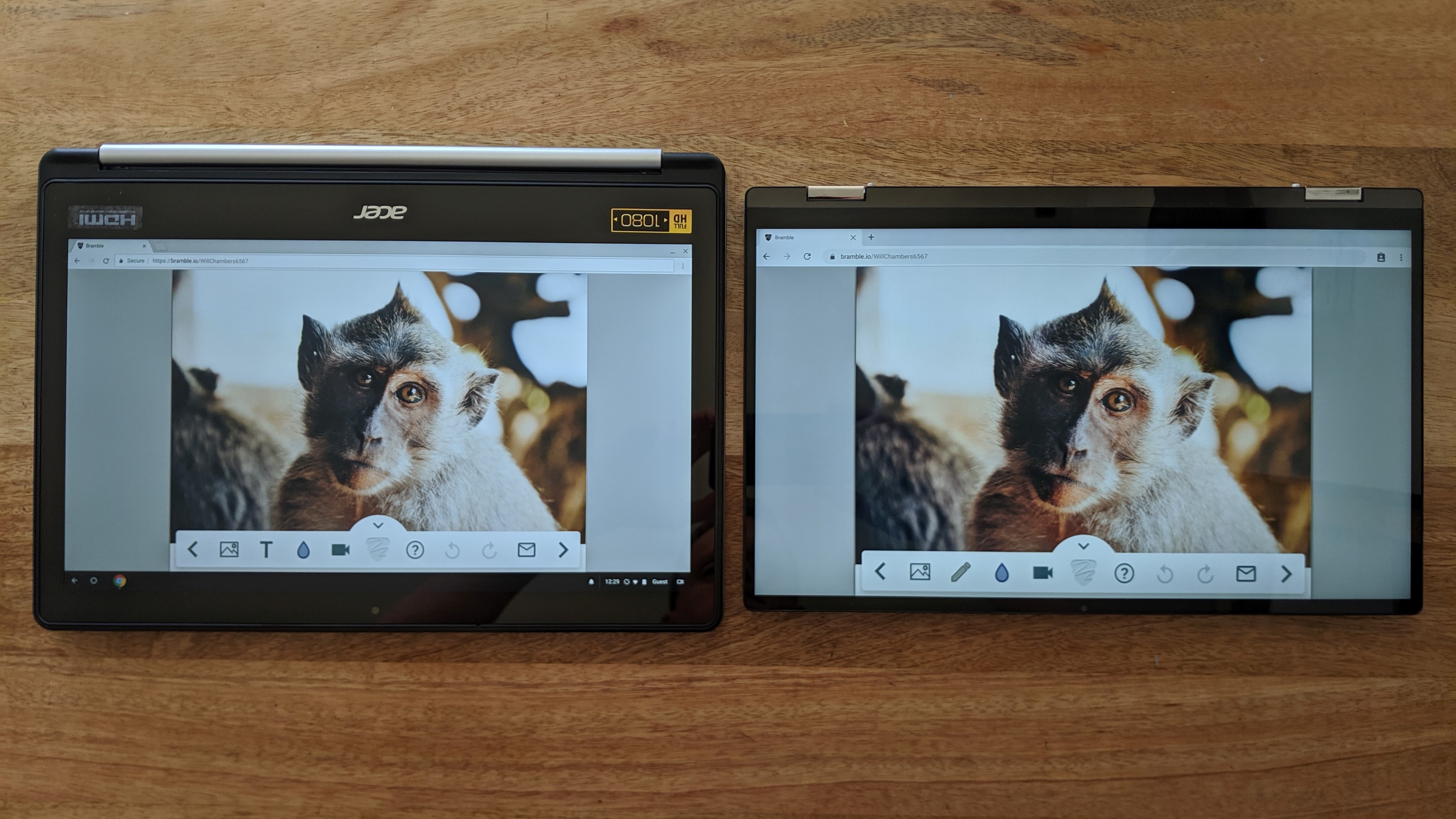 Windows Surface Go + Surface Pen (£500)
Windows Surface Pro + Surface Pen (£880)
These devices offer everything. With the addition of the Surface Pen, they're great for drawing on. Arguably even easier than an iPad as the Surface detects the Pen tip before it touches the screen, enabling greater precision. Because they're running full Windows, they offer the full Chrome desktop experience and therefore provide a more reliable voice and recording solution than the other tablet options.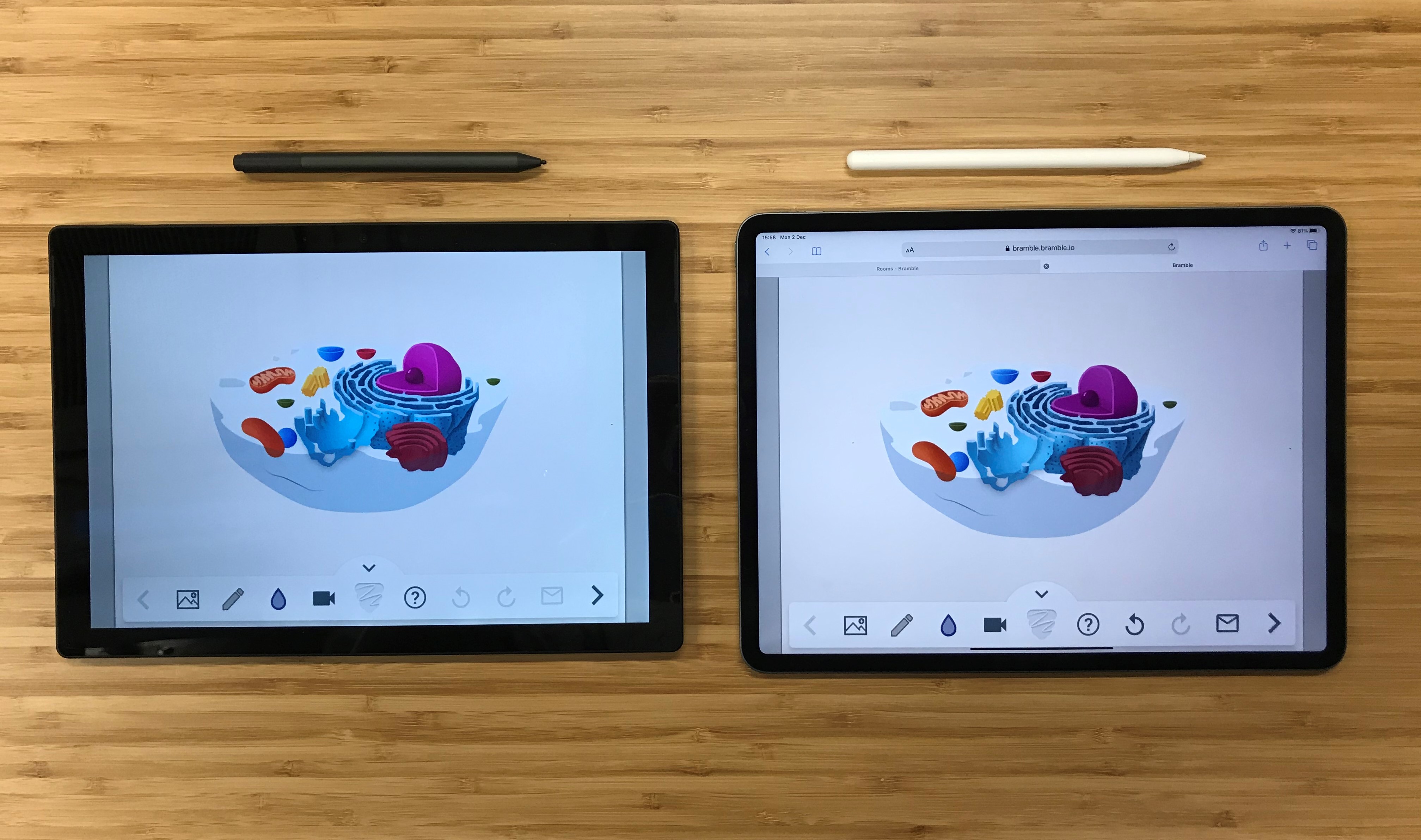 The Surface Go is great for using Bramble but perhaps a bit underpowered for day to day operations. We wouldn't necessarily recommend it as a primary computing device but would happily use it for teaching online. If you're looking to invest in a new computer for day to day use and online tutoring, we'd recommend a Surface Pro.
---
When tutoring online, audio can also be an important consideration to the overall experience of the session. It can be disruptive to the learning/teaching process if you can't hear each other properly or the audio is patchy. It is particularly important to think about sound quality if you are going to be tutoring on the go and if the session will be transcribed for later playback. Some good questions to ask regarding your audio requirements are:
Will I be tutoring on-the-go (coffee shops, while travelling or in public places), or from home (a quiet studio, bedroom or home office)?
Will I (or my student) be using the session again; either as revision materials, as a showcase of my teaching, or as a shared resource?
In situations when you are both in a quiet room and there are few distractions, you might not opt for any external headphones or microphone and instead use the built in microphone on the computer. However, when this is not an option, or when you are working on the move, here are some considerations for adding audio hardware to your online tutoring setup:
Do I need any external audio?
How portable do I need it to be?
Would I prefer bluetooth/wireless to a wired connection?
Additionally, using any headphones with a microphone will often prevent feedback which can be produced in the absence of using them. The good news is that you don't need expensive headphones in order to see these benefits. Most of the time, you can probably use whatever headphones you already have to hand. Failing that, there are plenty of reviews here to help you decide what headphones you want to buy.
---
Internet Connection and Sound Quality
The key consideration for sound quality is perhaps the quality of your internet connection. Specifically, the latency – which is the delay between an audio signal leaving one user and reaching the other. We recommend a latency less than 200 ms for a good voice experience. You can test your voice latency with Bramble's global network of servers here.
Here's some additional guidance on improving your connection.
---
Webcams for Online Tutoring
There is a lot of information on the web regarding webcams. In reality, we don't think it makes a huge difference what you use for this. We've tested everything from the HD Logitech C920 to built-in webcams that come with the system you use and the difference, for online tutoring, is negligible.
For most equipment setups, a standard pair of headphones and a built-in webcam provides more than enough for you to have a great online experience.
---
The Best Bang for Buck Setup for Online Tutoring
In conclusion, we suggest that the single best addition you can make to your equipment setup, assuming you already have a PC or laptop, is the addition of a drawing tablet. If you are looking to invest a little more as someone who regularly does online tuition (either as a tutor or a student), a touchscreen device with a stylus provides a fantastic virtual teaching and learning experience; particularly with software designed for online tutoring, such as Bramble. In fact, it effectively recreates the pen and paper form of note-taking which has been used for years, offline; with the added bonus that everything can be saved in the cloud, searched for and played back at any time.
The other important factor is internet speed and stability. In regards to headphones, microphones (sound) and a webcam, we would generally advise going with what you already have unless you will be tutoring in noisy places, where you might consider something that reduces the external noise more effectively.
There you have it. The great news is that you don't have to spend a fortune to have highly engaging virtual lessons and an overall great online tutoring experience.
---
Addional Device Reviews
If you would like to learn more about some of the devices we have featured in this article, we have included some of the best reviews, below.
Laptops and 2-in-1's:
Apple Macbook Pro - Review 1, Review 2
Chromebook C434 - Review 1, Review 2
Chromebook CB5 - Review 1, Review 2
Microsoft Surface Pro 7 - Review
Tablets:
Samsung Galaxy S5e - Review 1, Review 2
Drawing Tablets:
Huion H420 - Review 1, Review 2
Parblo Island - Review 1, Review 2
---